Hello Dolls!!!I ordered Lakmé Absolute Pop Tints Lip Tint- Candy Kiss onlne from Amazon.in. Here is my tiny miny review about it.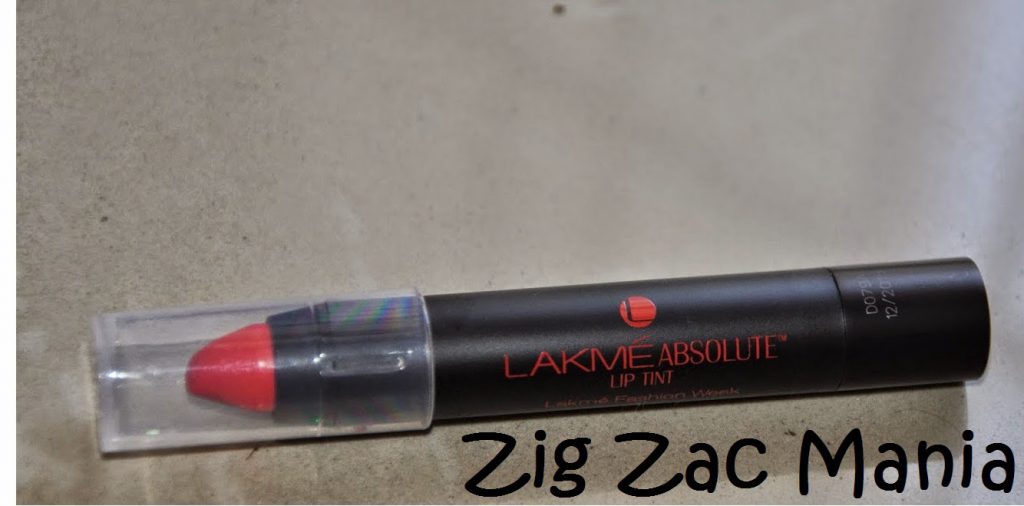 Product claims: These thick creamy pencils in 8 pop shades deliver rich deep color and incredible shine in just a stroke, to give you lips that pop like it should. A high performance make-up collection of lip tints in shades of summer, including bright orange, vivacious pink and flaming red for that amazing "read-my-lips" pout.
· Rich color delivery
· Unique Pop ShadesThe collection has 8 stunning shades- Plum rush, Pink sorbet, Candy kiss, Berry pink, Wine punch, Peach please, Orange tease, Grape hint
Price: 800 Rs
Wt: 2 gm
Online availability: Amazon
Packaging: The tint comes in a thick, black twist pencil with a transparent cap so it is easy to locate in the stash. Shade name is printed on base. On the top of the cap 'Limited Edition' is printed. The packaging is travel-friendly but not very pretty.
My opinion about this Product: The shade Candy Kiss is so pretty . It is a very subtle and beautiful orange. The lip tint has good pigmentation for a lip crayon and covers my lips in 2 swipes. The crayon glides smoothly on my lips and I don't need to use a lip balm as it is quite hydrating. Lasting power is good- lasts for 2-3 hours without meals and fades evenly. It does not bleed so no worries here.
The colour brightens my face and looks lovely. I totally love this as it really makes my lips look like a juicy orange candy ;). And I don't think that it is a summer-only colour as the brand says. It is an all-season natural shade for me. This one will suit almost every skin tone.
What I like about this product….
1. Doesn't feel heavy on lips.
2. Hydrates lips.
3. Packaging is travel friendly.
4. Very vibrant shade.
What I do not like about this product….
1. Expensive.
2. Availability. (Online available on Amazon)
ZZM Rating: ♥♥ 4.2 /5 ♥♥