Hello Readers!
So this time Bourjois healthy mix anti-fatique concealer is on my testing table. This concealer comes in a glass bottle with a red colored cap. I absolutely love the packaging. Yes! You need to be careful if you have a toddler (as toddlers love throwing things).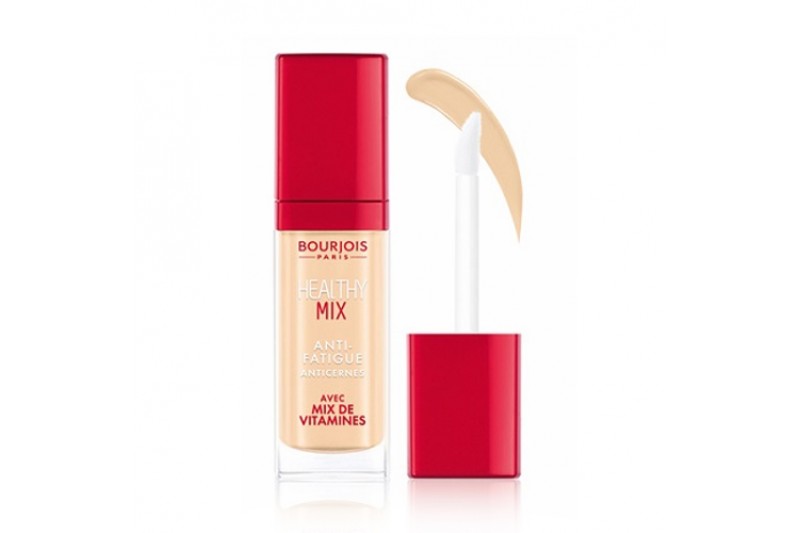 Price: 11 dollars
Direction of use:
1. Draw a triangle with the base under your eye and the point toward your cheek.
2. Apply the concealer to other areas that are dark – inner and outer corners of the eyes, sides of the nose, corners of the mouth, hollow of the chin, eyelids.
3. Sculpt the middle of your forehead, bridge of the nose and area around your eyebrows.
4. Gently blend into your skin using your fingertips.
I usually use the Bourjois Radiance Reveal Concealer in Shade 01 Light. But I found out that Bourjois have updated their Healthy Mix Anti-Fatigue Concealer formula so I added it to my wish list to try out. I love how Radiance Reveal highlights under my eyes, I was intrigued to see how Healthy Mix would compare. As you can see from the swatches, Radiance Reveal is more pink toned whereas Healthy Mix is more yellow toned.
I think Radiance Reveal does a better job at highlighting under my eyes due to it being pink toned. Though I think Healthy Mix has slightly better coverage. They both offer good staying power and I will definitely alternate between them. But Radiance Reveal will still be my favourite for under my eyes.
Similar to Radiance Reveal, Healthy Mix has a really creamy formula. Both concealers are very hydrating too as I do find some concealers set into the fine lines of my dry skin. You can go for it!
ZZM Rating: 4.1/5
Author: Nurlana Agayeva