Frizzy and unmanageable hair has been my never ending problem L I can't even remember how many different types of hair creams, masks, leave in conditioners, serums etc. I have tried just in the expectation that my hair becomes frizz free! This product, the Parachute Advansed Coconut Creme Oil was one such product which I got with the same expectation that maybe this one will work. LOL!! So today's review is about this Parachute Advansed Coconut Creme Oil which I have been using for like 4-5 months now.
Quantity: 150 ml
Price: Rs. 120/-
Packaging:  This one comes in a nice white and golden combination kind of fiber bottle packaging which has a pump in kind of dispenser.
My opinion about the product: As I mentioned, this one for me was that another one more product which I added in my "let's try it" list to get that soft and smooth and frizz free hair which I have been dreaming since ever. The major reason why I grabbed it was it seemed quite promising at such a reasonable rate.
Trust me guys, since I have started using this cream for my hair, I feel blessed!!! It makes my hair super soft and smooth, with almost no frizz!! It gave me the kind of hair which I had expected, and which many other costly products were unable to keep up to!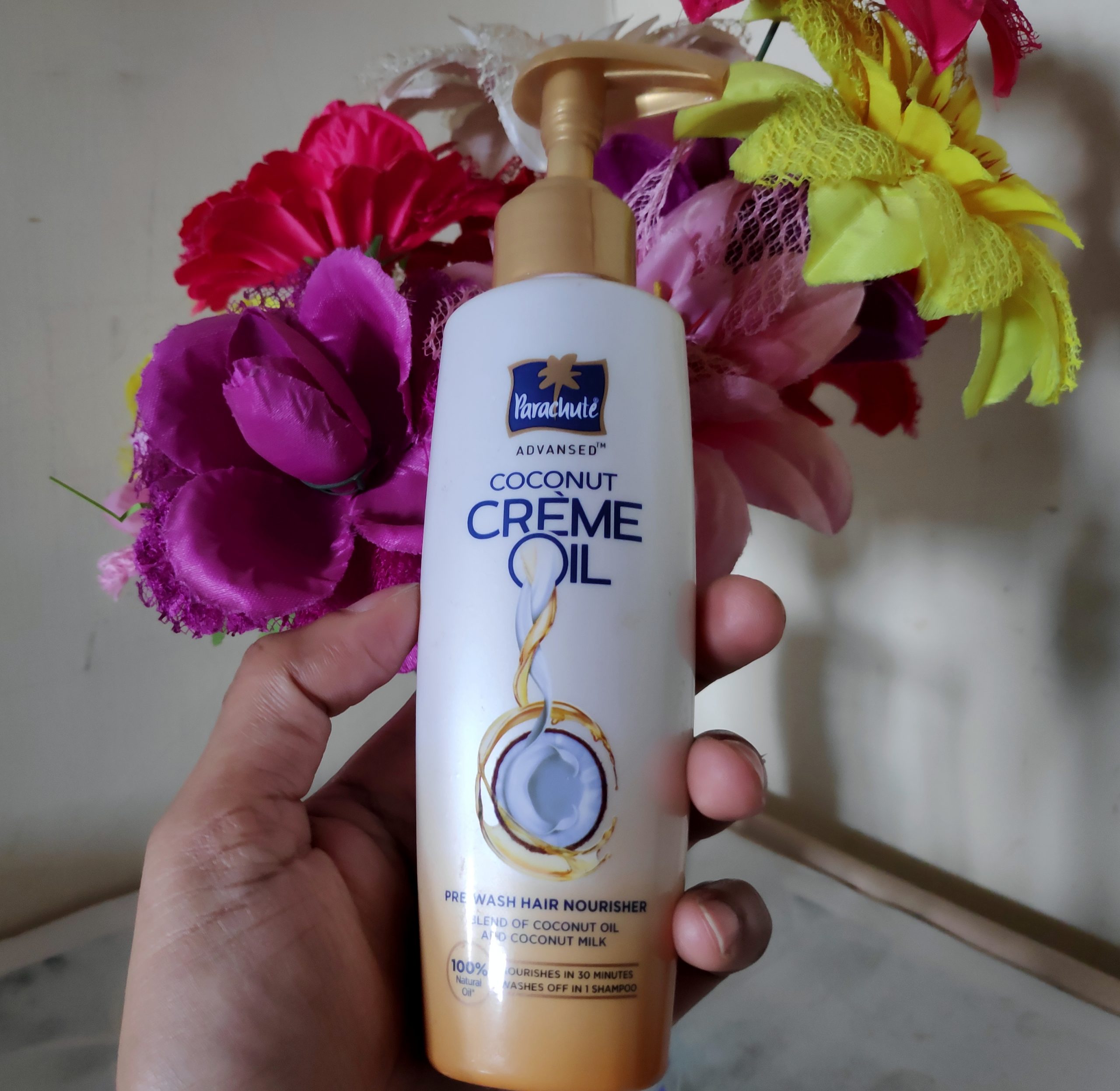 This one has a cream like texture, which is totally non-greasy or heave. You have to apply it all over your hair, starting from root to tips and keep it for 30 min to 1 hour max and then wash it off with your regular shampoo. The goodness of coconut which this product is enriched with, gives the shine to the hair, and also makes it super smooth and soft. Ever since I have started using it, I haven't even touched other hair cream or masks, and also I have been recommending it to everyone who has frizzy and rough hair issues like me.
I am completely in love with this product. I use it once in a week and that works amazingly for me.
My likes and dislikes about the product:
Likes:
Makes hair very soft and smooth
Easy to use
Very much budget friendly
Available both offline and online
Completely non greasy
Has the goodness of coconut oil and coconut milk
Has a creamy texture
Dislikes:
The 150 ml packaging isn't travel friendly (the smaller pack doesn't have a pump dispenser, and thus is travel friendly)
I completely love love this hair cream!! This one is like the quick fix and hassle free solution to get a nice soft and smooth hair. I would definitely recommend you guys to give this one a try!
My rating : 4.8/5
About the author: Priyanka is a professional and also a beauty, cosmetic and food enthusiast!