Hello Friends!!
I am back with one more product by Himalaya. Himalaya is a brand which is very economical and most of it's product either scrub, face wash, pace pack, lip balm or night cream they don't disappoint you. In this post, I am going to review Himalaya Herbals Protective Sunscreen Lotion. It comes with SPF-15.
Product claims:
Himalaya Herbals Protective Sunscreen Lotion, over exposure to the sun's ultraviolet (UV) rays seriously threatens human health. Besides sunburn, prolonged exposure to UV radiation can cause premature aging, Suppression of the immune system and even skin cancer. Himalaya Herbals Protective Sunscreen Lotion is a double action formulation that protects you from harmful UV rays and nourishes your skin. It is dermatologically tested and has no harmful chemicals.
Ingredients: Each ml contains extracts of Mahabharivacha (Alpinia galanga) 70mg, Kumari (Aloe Vera) 30mg, Gandhapalashi (Hedychium spicatum) 20mg, and Seva (Pyrus malus) 20 mg. Inactives: Phenoxyethanol, Methylparaben IP, Propylparaben IP, Ethylparaben, Butylparaben, Isobutylparaben.
Price:
110 Rs
Wt: 50 ml
Shelf life: 36 months or 3 years
Online availability: Bigbasket, Nykaa, Shopclues, Flipkart, Amazon etc.

Directions for Use: Apply liberally on exposed skin like face, neck and arms before going outdoors during the day. Avoid the area around eyes.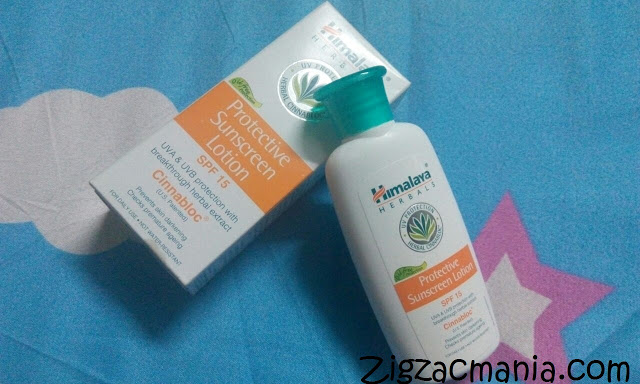 Packaging: This Sunscreen lotion comes in white color bottle with a green color flip open cap. This bottle looks like a shampoo bottle rather than a Sunscreen lotion. For taking out lotion, you need to turn the bottle upside down and press gently. Don't over press otherwise you may be worried that you wasted huge amounts of Sunscreen. The cap is very tight & there is no chance of spillage so you can easily carry it in your bag.
My opinion about this product:
This lotion is white in color and has a medium consistency. But I find it a little runnier in comparison to Lakme sunscreens. It smells like some medicinal lotion. I don't like this smell at all because it made me dizzy after application. Pea size amount of lotion is sufficient to cover entire face, so a small bottle will go a long way. I usually apply lotion 30 minutes prior before stepping out.
Whenever I went out in the Sun, the lotion started running out with the sweat and I can feel that I sweated more on that day (I really hate this situation). It also leaves greasy & oily effect on my skin, as I already have oily skin so can't bear more oil on my skin. This lotion has SPF-15, so I don't find it much effective on my skin in the terms of protecting me in the Sun.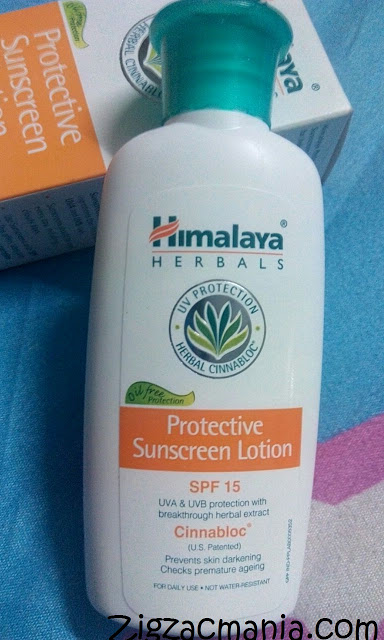 I think this lotion will work better on people with normal to dry skin. If we talk about people with oily skin, it is better for them to use it in winter. Because then you will not face greasy and oily effects. Moreover this amount of SPF will be sufficient in protecting skin from Sun rays damage in winters.
What I like about this product….
1. Contains US patented "cinnabloc".
2. Easily available in local as well as online markets.
3. Economical.
4. Pea size amount is sufficient for whole face coverage.
5. Travel friendly packaging.
6. Herbal product so no chances of side effects.
What I do not like about this product….
1. Low SPF.
2. Leaves greasy & oily effects on skin.
3. Leaves white cast on skin.
ZZM Rating: ♥♥ 2/5 ♥♥