Few days back Kriti Verma reviewed ColorPop Just A Tint in shade City Of Stars. I also have 4 shades of this range, which actually has total 12 shades. In this post I will be reviewing four of them.
About the product: For the days when you need a 5 minute face. get the perfect sheer wash of colour in the comfiest, lightweight, super moisturizing formula. loaded with passion fruit oil, coconut oil, marula oil, and shea butter to provide hydration for healthy, glowy lips with a hint of tint. trust us, you'll want to keep one in your purse, car, desk, and vanity.
Price: 8 $
Wt: 2.1 gm
How to apply it: 
Make sure your lips are exfoliated and moisturized before applying any product. We don't want any cracked or crusty lips!
Line your lips using the pointed tip of your lip crayon.
Hold the angled edge of the crayon tip flat against your lips to fill in your pout.
Bingo! You are ready to rock.
Packaging: This lip crayon is a 2.1 gm product, comes in retractable form & doesn't need to be sharpened, which in turn prevents wastage of the product. The packaging is plastic and feels a bit dinky, honestly. The twist up mechanism works perfectly & doesn't give any chance to complain. What I don't like is that the name of the color isn't on the lipstick casing. It irritates be at times. The crayon looks huge but at the same time it is compact and will not take up much space in your purse, which for me as a lover of clutches is a huge plus.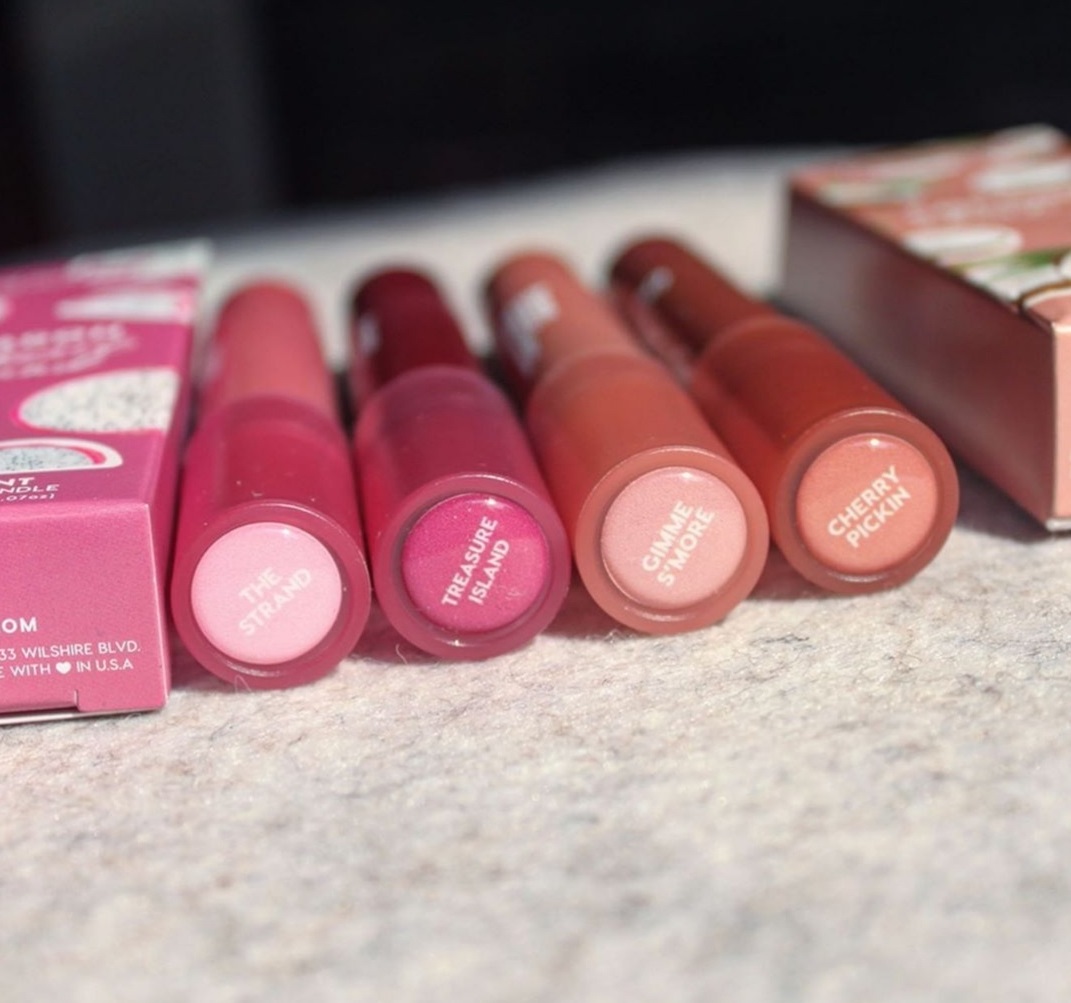 Shades:
Gimme S'more: Is a sheer n*die pink shade.
Cherry Pickin: Is a sheer honey n*de shade.
The Strand: Is a sheer mid-tone pink shade. 
Treasure Island: Is a sheer deep raspberry shade.
My opinion about the product: The 6 Colourpop Lippie Tint Duo Kits are available in Gimme a Slice (Chimichanga & A Go Go), You're a Peach (Rise n Shine & Z Boys), Coconuts About You (Gimme S'more & Cherry Pickin), Guava Have It (Maui Wowie & Chubby Bunny), Dragon My Heart Around (The Strand & Treasure Island) and Cherry & Bright (Cutie Fruity & City of Stars). You can also buy them individually. The wear time is slightly low, max it will stay around 2 hours on your lips. Application is pretty simple, lip crayons are too easy to handle. You can draw it on easily, just don't go fooling around too much with it, you need to keep the tip intact if you want to apply it precisely. It has no fragrance, which could be a good or bad quality depending on individual using it. This lip crayon is extremely buttery and glides very smoothly on lips. The texture is lovely with a light shine that steadily wears off over time.
It does transfer a bit but no bleeding or feathering at all. Sometimes I find it accentuating my fine lines so I always exfoliate my lips before wearing this lip shade. This cutie wears off all on its own, so removal is no biggie. You could pretty easily wipe it off if you wanted, but there may be a slight stain if you wipe off shortly after application.
ZZM Rating: 3.5/5
Would I recommend this? My answer can be Yes if you can get them without paying international shipping. They are not that expensive but shipping really s*cks 🙁