Hello Beauties!!!
It's time for review of Biotique Bio Fruit Face Pack girls 🙂 As per brand this whitening & de-pigmentation pack is blended with the juices of pineapple, tomato, lemon and papaya fruit to visibly lighten skin for a fairer, flawless look. With regular use, skin reclaims its soft, smooth, youthful tone and texture. My expectation was very pretty high from this face pack. So let's see that it worked for me or not.
Ingredients:
Price: 75 Rs
Quantity: 50 gm
Shelf life: 3 years from date of manufacturing.
Direction of use: Apply evenly over cleansed face and neck Leave on for 15-20 minutes. Rinse with water or damp washcloth. Use daily or as needed to lighten and brighten the complexion.
Packaging: This face pack comes in a see through squeeze tube but due to label you won't be able to see the product. I find this tube more convenient to use in comparison to the jar. Product's related details are well printed over the label at the back side of the tube. Packaging is leakage proof & you can carry it while travelling without thinking twice.
My opinion about the product: This face pack contains the juices of pineapple, tomato, lemon and papaya fruit with Multani Mitti to provide you a flawless skin. This face pack is brick red colored & has a thick consistency. It has a really thick consistency due to which it is very difficult to spread it on your skin. So it is better to dilute it with water or Rose water. Upon application, it gives a warm sensation on my skin, but it goes away within a few minutes.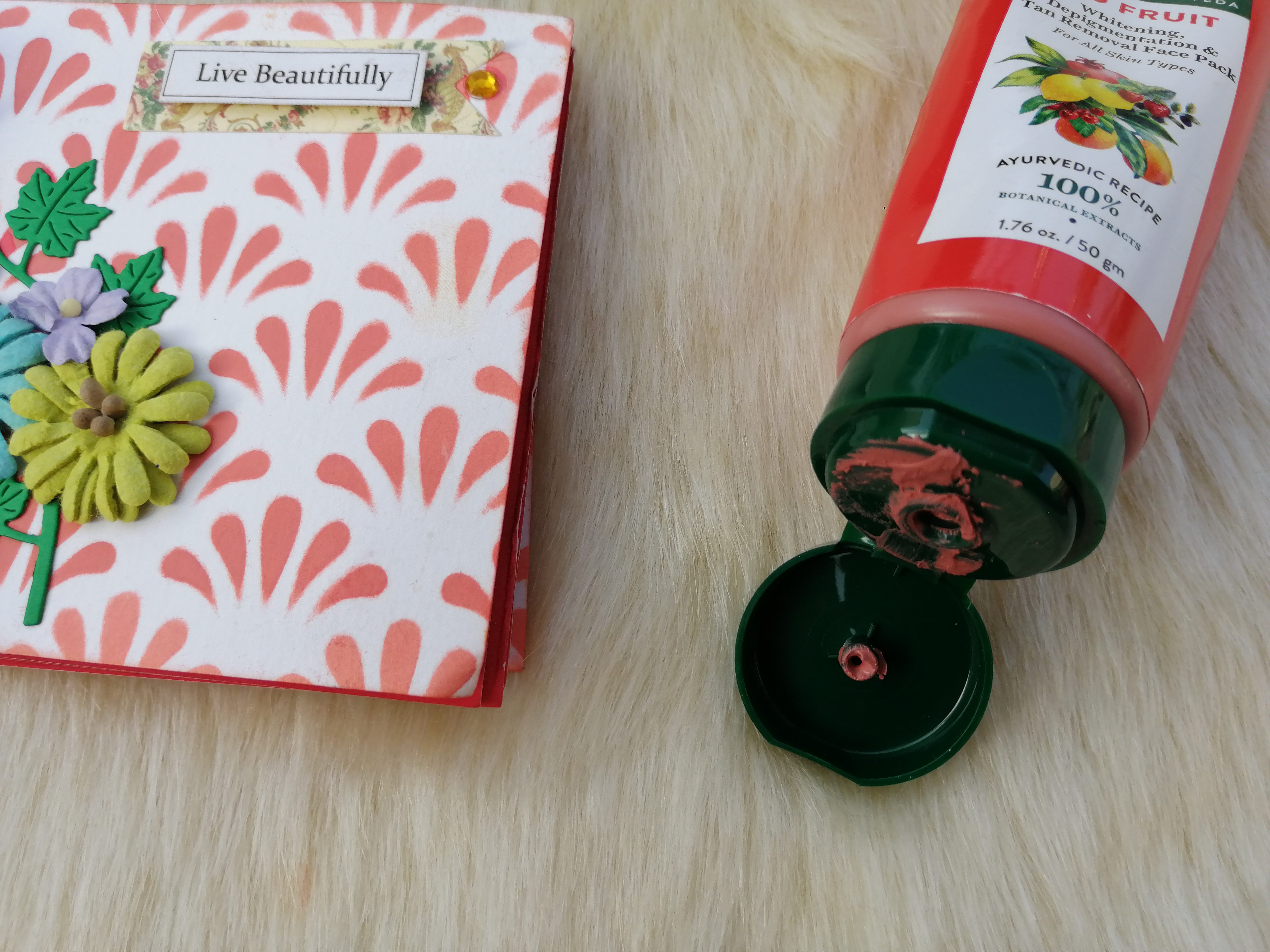 It generally takes 15-20 minutes for this face pack to dry completely. Taking off this face pack is easy, you can use wipe or water to take it out completely. It retains the moisture of the skin while removing all the gunk and grease. I used it twice in a week but didn't noticed any thing miraculous. So don't expect any instant result, it may take few weeks or uses for the visible effects. 
 After few applications it helped in de-pigmentation & tan removal. Good thing is that this product is only prices at only 75 Rs for 50 gm. Which will not hurt your pocket much & as give you visible effects 🙂
What I like about this product….
Ayurvedic Recipe.

Contains Goodness Of Multani Mitti, Geru, Tomato And Pineapple etc.

Works on an and Pigmentation.

Doesn't drain out skin moisture.

Slow but guaranteed results.

Travel friendly & budget friendly.
What I do not like about this product….
Thick consistency.

Gives warm sensation on application.
ZZM Rating: ♥♥ 3.9/5 ♥♥