Hola Amigos!!!
These days I am pretty irregular in writing post, actually my books are in final stage that why not getting time to write the post. But finally I decided to do a post. So today going to review one of my school days product. There will be not a single person who is not aware about this product. Let me end up this suspense, it is none other than Himalaya Herbals Purifying Neem Face.
Product claims:
A soap-free, herbal formulation that gently removes impurities and prevents pimples. Neem, well-known for its anti bacterial properties, kills problem causing bacteria, and Turmeric effectively controls acne and pimples. Use regularly for clear, soft and pimple free skin.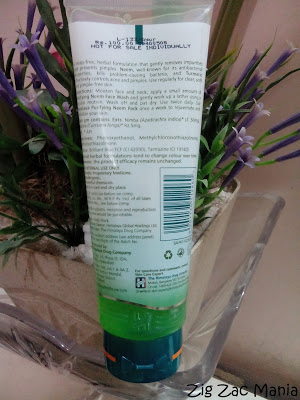 Ingredients:
(Neem, Nimba) well known for its anti-bacterial property that kills problem causing bacteria.
(Turmeric, Haridra), Effectively controls acne and pimples.
Price: 100 Rs
Wt: 100 ml
Shelf Life: 24 months or 2 years
Online availability: It is available in various stores like Amazon, Flipkart, Jabong, Snapdeal, Junglee Newu etc.
Directions for Use: Moisten face and neck; apply a small amount of Purifying Neem and gently work up a lather using a circular motion. Wash off and pat dry. Use twice daily. Use Himalaya Purifying Neem Pack once a week to rejuvenate and revitalize your skin.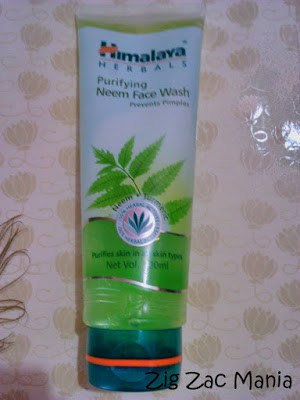 Packaging: The face wash comes packed in a transparent tube with a small green screw cap. The face wash is of light green color and smell bit like neem (Not exactly like neem). Packaging is travel friendly as it available in small variant, trial pack is also available.
My opinion about this Product: It is a gel kind of face wash which gets all foamed up on using… This is a soap free face wash which has an herbal formula containing Neem and Turmeric. I find it very mild on the skin.. I have an oily skin due to which this has been perfect for my skin as it removes the oil and it does not make it too dry. It is a very good face keeping in mind price factor, especially for teenagers and college going students (I know it is very difficult to buy everything with limited pocket money).
What I like about this product….
1. Suits all skin types.
2. The face wash tube is transparent, so it is easy to find out how much quantity is left in the tube
3. Easy availabity.
4. Economical.
5. No side effects.
6. Mild on skin.
What I do not like about this product….
Not able to find any. (May be because I am using it from School days.)
ZZM Rating: ♥♥ 5/5 ♥♥